This is the first post in the blog section of EpicWebs and it's a real treat.
We had the pleasure of talking to Rhys Wynne, author of bbPress Complete and asked him a few questions, which fortunately for us he also answered. Check out the interview below and leave your comments/questions in the comment section at the bottom of this post.
Hi Rhys, thanks so much for taking the time to talk to us, we really appreciate it.
"No problem, thanks for getting in touch!"
First off, where is the best place for people to purchase a copy of bbPress Complete?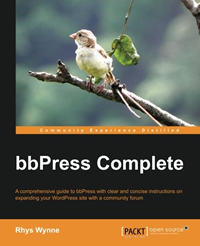 "Well, the publishers Packt Publishing are always having offers which gives you anywhere up to 50% off the eBook, so well worth going there. Alternatively if you want to help me personally, you can buy it through the Amazon Link on my bbPress Complete book page. Which is a great help!"
Awesome, Have you always been interested in writing?
"Yes! Well more of a hobby than anything. I started via WordPress by blogging, originally on Blogger, but switched to WordPress. Although it was mainly personal sites, I ended up using it for my clients. I still aim to blog at least once a month, usually more though."
What kept you motivated whilst writing bbPress Complete?
"I set up the project with goals. This helped keep the project manageable. I must admit that I was given a lot of help with structuring my work from the publisher, which was a great help."
"Also – and I know this may sound strange – it was quite easy to remain motivated. I was given clear deadlines when things would need to be done. I kept in my head if I was one chapter ahead with my deadlines (so I finished Chapter 2 before the Chapter 1 deadline), then I was happy. So by putting myself under less pressure I actually got more done."
"Finally I was fortunate that the time when I was writing the book revolved in quite a lot of train travel for me. As such I was often on cross-country trains for hours at a time. This helped because I could get things written without too much distraction (for example, many of the trains I travelled on didn't have the internet), so I could just focus on getting things written."
The internet isn't always a great thing to have, we know that. So, what is the hardest thing about writing?
"The hardest thing about writing in my eyes is structuring pieces. Writers block is a terrible thing, and there were times when word's struggled to come out. Furthermore, things that you suspected would be explained in 3 pages would actually only require a paragraph or two, and those that you thought were a paragraph of writing were actually quite a lot more."
"The other thing that is troublesome is that writing about technology means writing about an ever evolving entity. This means that there were things that before even beginning the book I had to familiarise myself with, and there were also things that used to work didn't."
What book(s) are you reading currently, if any?
I'm currently reading Extra Lives: Why Video Games Matter
by Tom Bissell. The book details why video games are an art, and how they can be just as emotionally draining as other forms of entertainment. It features designers and developers interviews, describing what they were going to hopefully achieve by the end of it..
Do you have any advice for anyone writing a book?
"Plan it out! Write half a page on each chapter of the book you are about to write. What will it contain, bullet points, and what the user will know by the end of it. Also give a break down of the number of pages you are expected to write in each chapter. That way you can get an overall inclination on the size of your book."
Do you have any other books planned that you can let us know about?
No not really. Of course if asked again I probably would write a book. I'm focussing more on my WordPress plugins this year.
Which famous person, living or dead would you like to meet and why?
"I'm quite fortunate in that I briefly met my hero – Mick Foley (AKA Mankind from WWF Wrestling) – who was the inspiration for me when I started to write, so that's one person I'd like to meet again, maybe for an afternoon or a couple of beers or something."
"I'd quite like to have met Nelson Mandela. The guy shaped history and did it in such a way that he didn't condone any bloodshed, even from his enemies. The things he must've seen are fantastic."
Was there any books you started writing and never finished?
"I did start writing an SEO Book for WordPress Developers. I used to be an SEO before I started WordPress Development professionally, so know a bit about the subject and have spoken about SEO for WordPress in meetups before now, so I thought I'd write a book. Turns out I couldn't really finish it as I got half way through and it got incredibly dull. So I gave it up, and it's not coming back."
Finally, is there a part of bbPress Complete which you feel is a real gem for bbPress users?
Hmmmmm….I'd like to say it's all good! I quite like the plugin section of the book, which details ways in which you can expand bbPress. A lot of people I speak to seem to think that bbPress is lacking, when in fact it's just lightweight – and can be extended easily with plugins.
Thanks again for taking the time to chat with us, if anyone would like to get in touch with Rhys then you can follow him on twitter @rhyswynne. If you want to know what Rhys is currently working on then head on over to http://winwar.co.uk/. I hope you all enjoyed the interview, as always let us know your thoughts in the comments below.